Our series on "Making Sense of Math"
is in it's Third Week and the topic is
Mental Math
I LOVED using mental math techniques with my second graders!
I've gotten into the habit of having a
"Hall Basket"
that sits on a desk outside my room and contains
lots of grab and go mental problems for hall travel.
I use the "down time" of waiting at the bathroom for some
hall mental math engagement!
I have flashcards as well as word problems
on cards that I can ask students to show me the answer with their
hands or whisper in my ear.
You can read more about how I use
Number Talks to help build mental math
You might even find an #appengage app that I
love using both on the iPads and the computer
to help work with rekenreks for mental math.
Be sure to hop over to
Kinder Kraziness for more
Mental Math Shares and join the linky!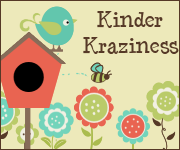 and be on the lookout for more in the series of...