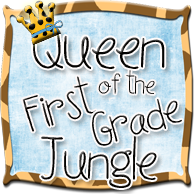 I LOVE LOVE LOVE the share for fact practice at Queen of the First Grade Jungle!
She's taken a great outlook on the technology aspect and gotten "GREEN" in the process.
I can't wait to try this with my firsties next week! I know they're gonna love using
the powerpoint she's sharing on her post right now! They think they're
Double Masters right now! What a great way to review and practice!
Thanks for sharing such a great idea!