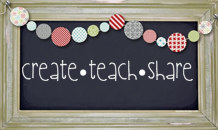 Mrs. Rojas over at "
Create-Teach-Share
" is having a linky party on how to use Post It Notes!
Hop over to see some of the creative ways different teachers are using my favorite little friend...
the Post It Note!
Here's an idea I borrowed from our wonderful speech and language pathologist at school...
thanks Lindsay!
She made these for end of the year gifts for her daughters teachers....and what teacher wouldn't enjoy having one of these in there room!
I went to Wal Mart and found some cute but reasonable Post It "knock off" Notes for around 2 dollars.
Dollar Tree was out of the plastic stand up picture frames, but lo and behold...Wal Mart was cheaper...only 97 cents for this baby... which is a perfect size for my little post it note holder!
I used to be a "Creative Memories" Consultant (in another life) so I had plenty of pretty paper to use as the background under my picture frame...
I used some nifty double sided tape (from my CM stash) to attach the Post It Pad to the front of the picture frame holder
and Ta Da...
a cute Post It Note holder to place on a desk so that the kids can write what went wrong or something they need help with and post it to a bulletin board while I'm at small group...this was an idea from Debbie Diller....they can write what they needed help with if they can't solve a problem on their own or with a friend and then I can address the situation at the end of small group time :)
Heidi